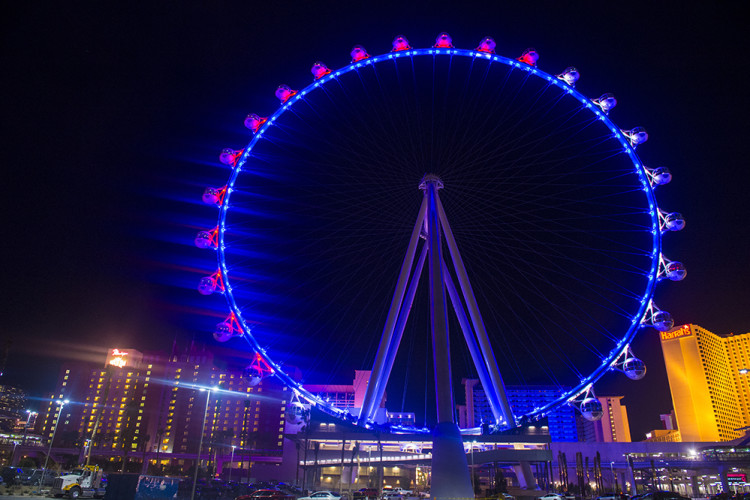 Photo credit: Kobby Dagan / Shutterstock.com
This 550-foot-tall Ferris wheel with observation cabins offers city views & holds up to 40 people. The High Roller does standout with the LINQ's outdoor shopping, dining and entertainment promenade.
If you're all about sightseeing, book your ride right at sunset or nighttime.  The wheelhouse sells drinks at the bar, or you could go all out and rent an entire cabin and have your own bartender on board!
The High Roller currently holds the Guinness World Record for largest observation wheel.
Located at the heart of the Las Vegas Strip, it is also the focal point of the open-air shopping, dining and entertainment district.
From boarding to exit, the entire experience is about 30 minutes long. Along the way, you enjoy
In-cabin video and music shows while witnessing a truly unparalleled 360-degree view of Las Vegas both day and night.
The High Roller is accessible from The LINQ via multiple entrances, including a back Porte cochère off of LINQ Lane.  To board the High Roller, guests pass through a building, which includes interactive elements, bathrooms and a bar and lounge.  Just as the High Roller has transformed the Las Vegas skyline, a ride inside it may transform you. After a spin on this wheel, your view of Vegas will likely never be the same.  There are no age, height or weight restrictions.  The High Roller is ADA accessible and will stop momentarily to allow for a wheelchair to board.